Rear Seats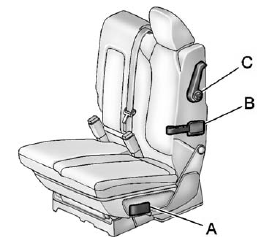 A. Seat Adjustment Handle
B. Reclining Seatback Strap
C. Sliding Seat Lever
See also:
Collision Parts
Genuine GM Collision parts are new parts made with the same materials and construction methods as the parts with which the vehicle was originally built. Genuine GM Collision parts are the best choice ...
Tire Terminology and Definitions
Air Pressure: The amount of air inside the tire pressing outward on each square inch of the tire. Air pressure is expressed in kPa (kilopascal) or psi (pounds per square inch). Accessory Weight: ...
Interior Care
To prevent dirt particle abrasions, regularly clean the vehicle's interior. Immediately remove any soils. Note that newspapers or dark garments that can transfer color to home furnishings can also pe ...