Folding the Seatback
Notice: Folding a rear seat with the safety belts still fastened may cause damage to the seat or the safety belts. Always unbuckle the safety belts and return them to their normal stowed position before folding a rear seat.
To fold the third row seatback:
1. Remove anything on or under the seat.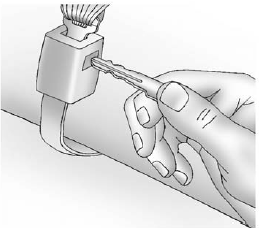 2. Disconnect the rear safety belt mini-latch using a key in the slot on the mini-buckle, and let the belt retract into the headliner.
Stow the mini-latch in the holder in the headliner.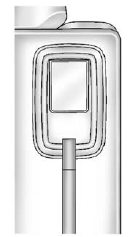 3. Pull up on the release lever on the back of the seat.
4. Push the seatback forward to lay flat.
See also:
Hazard Warning Flashers
(Hazard Warning Flashers): Press this button located on top of the steering column, to make the front and rear turn signal lamps flash on and off. This warns others that you are having trouble. Pr ...
Bulb Replacement
For the proper type of replacement bulbs, see Replacement Bulbs on page 10‑37. For any bulb changing procedure not listed in this section, contact your dealer. ...
Instrument Panel, Leather, Vinyl, & Other Plastic Surfaces
Use a soft microfiber cloth dampened with water to remove dust and loose dirt. For a more thorough cleaning, use a soft microfiber cloth dampened with a mild soap solution. Notice: Soaking or saturat ...