Entering and Exiting the Third Row
WARNING
Using the third row seating position while the second row is folded, or folded and tumbled, could cause injury in a sudden stop or crash. Be sure to return the seat to the passenger seating position. Push and pull on the seat to make sure it is locked into place.
Notice: Folding a rear seat with the safety belts still fastened may cause damage to the seat or the safety belts. Always unbuckle the safety belts and return them to their normal stowed position before folding a rear seat.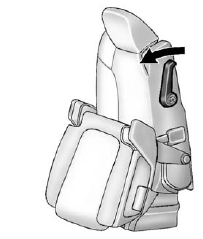 To access the third row:
1. Remove objects on the floor in front of or on the second row seat, or in the seat tracks on the floor.
2. Move the front center console armrest completely forward.
See Center Console Storage on page 4‑2.
3. Place the folding armrests in the upright position.
4. Make sure that the safety belt is unfastened and in the stowed position.
5. Pull the sliding seat lever (C) forward and move the seatback forward. The seat cushion will fold, and the entire seat will slide forward. The head restraints will fold out of the way automatically.
See also:
Testing the Alarm
To test the alarm: 1. From inside the vehicle, lower the driver side window, and open the driver door. 2. Press . 3. Get out of the vehicle, close the door, and wait for the security light to go ou ...
How to Check Automatic Transmission Fluid
Notice: Too much or too little fluid can damage the transmission. Too much can mean that some of the fluid could come out and fall on hot engine parts or exhaust system parts, starting a fire. Too lit ...
Turn Signal Indicator
The vehicle may also have a turn signal indicator on the mirror. An arrow on the mirror flashes in the direction of the turn or lane change. ...