Entering and Exiting the Third Row
WARNING
Using the third row seating position while the second row is folded, or folded and tumbled, could cause injury in a sudden stop or crash. Be sure to return the seat to the passenger seating position. Push and pull on the seat to make sure it is locked into place.
Notice: Folding a rear seat with the safety belts still fastened may cause damage to the seat or the safety belts. Always unbuckle the safety belts and return them to their normal stowed position before folding a rear seat.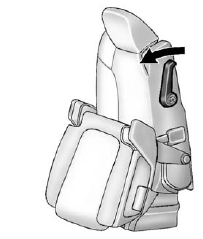 To access the third row:
1. Remove objects on the floor in front of or on the second row seat, or in the seat tracks on the floor.
2. Move the front center console armrest completely forward.
See Center Console Storage on page 4‑2.
3. Place the folding armrests in the upright position.
4. Make sure that the safety belt is unfastened and in the stowed position.
5. Pull the sliding seat lever (C) forward and move the seatback forward. The seat cushion will fold, and the entire seat will slide forward. The head restraints will fold out of the way automatically.
See also:
Charging System Light
This light comes on briefly when the ignition key is turned to START, but the engine is not running, as a check to show it is working. If it does not, have the vehicle serviced by your dealer. The ...
Cargo Cover
For vehicles with a cargo cover, it can be used to cover items in the rear of the vehicle. To install the cover, place the loops on each corner of the cover on the four hooks in the rear of the vehicl ...
Wheel Alignment and Tire Balance
The tires and wheels were aligned and balanced at the factory to provide the longest tire life and best overall performance. Adjustments to wheel alignment and tire balancing will not be necessary on ...