Entering and Exiting the Third Row
WARNING
Using the third row seating position while the second row is folded, or folded and tumbled, could cause injury in a sudden stop or crash. Be sure to return the seat to the passenger seating position. Push and pull on the seat to make sure it is locked into place.
Notice: Folding a rear seat with the safety belts still fastened may cause damage to the seat or the safety belts. Always unbuckle the safety belts and return them to their normal stowed position before folding a rear seat.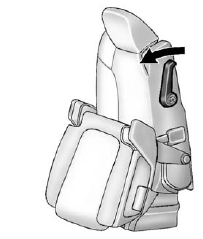 To access the third row:
1. Remove objects on the floor in front of or on the second row seat, or in the seat tracks on the floor.
2. Move the front center console armrest completely forward.
See Center Console Storage on page 4‑2.
3. Place the folding armrests in the upright position.
4. Make sure that the safety belt is unfastened and in the stowed position.
5. Pull the sliding seat lever (C) forward and move the seatback forward. The seat cushion will fold, and the entire seat will slide forward. The head restraints will fold out of the way automatically.
See also:
Brake Fluid
The brake master cylinder reservoir is filled with DOT 3 brake fluid. See Engine Compartment Overview on page 10‑6 for the location of the reservoir. There are only two reasons why the brake ...
Tire Sidewall Labeling
Useful information about a tire is molded into its sidewall. The examples show a typical passenger vehicle tire and a compact spare tire sidewall. Passenger (P&-Metric) Tire Example (A) Tire ...
Tire Messages
TIRE LOW ADD AIR TO TIRE On vehicles with the Tire Pressure Monitor System (TPMS), this message displays when the pressure in one or more of the vehicle's tires is low. This message also displays LE ...