Engine Air Cleaner/Filter
When to Inspect the Engine Air Cleaner/Filter
Inspect the air cleaner/filter at the scheduled maintenance intervals and replace it at the first oil change after each 80 000 km (50,000 mi) interval. See Maintenance Schedule on page 11‑3 for more information.
If driving in dusty/dirty conditions, inspect the filter at each engine oil change.
See Engine Compartment Overview on page 10‑6 for the location of the engine air cleaner/filter.
How to Inspect the Engine Air Cleaner/Filter
To inspect the air cleaner/filter, remove the filter from the vehicle and lightly shake the filter (away from vehicle) to release loose dust and dirt. If the filter remains covered with dirt, a new filter is required.
To inspect or replace the engine air cleaner/filter, do the following:
1. Remove the engine cover.
See Engine Cover on page 10‑8.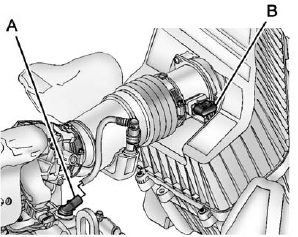 A. Ventilation Tube
B. Sensor
2. Disconnect the cover fitting from the ventilation tube (A).
3. Disconnect the wiring harness connector from the sensor (B).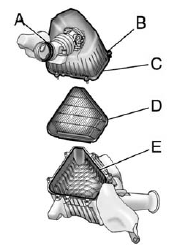 A. Clamp
B. Screws
C. Housing Cover
D. Filter
E. Base
4. Loosen the outlet duct clamp (A).
5. Loosen the six housing cover (C) screws (B).
6. Remove the housing cover (C) with outlet duct.
7. Remove the filter (D) and any loose debris that may be found in the base (E).
8. Inspect or replace the filter (D).
9. Reverse Steps 2 through 6 to reinstall the housing cover and reconnect the electrical connector to the sensor.
10. Reinstall the engine cover.
See Engine Cover on page 10‑8.
WARNING
Operating the engine with the air cleaner/filter off can cause you or others to be burned. The air cleaner not only cleans the air; it helps to stop flames if the engine backfires. Use caution when working on the engine and do not drive with the air cleaner/filter off.
Notice: If the air cleaner/filter is off, dirt can easily get into the engine, which could damage it.
Always have the air cleaner/filter in place when you are driving.
See also:
Climate Controls
The vehicle's heating, cooling, defrosting, and ventilation can be controlled with these systems. Climate Control System A. Fan Control B. Air Delivery Mode Controls C. Temperature Control ...
Buying New Tires
GM has developed and matched specific tires for the vehicle. The original equipment tires installed were designed to meet General Motors Tire Performance Criteria Specification (TPC Spec) system ratin ...
Instrument Panel Fuse Block
The instrument panel fuse block access door is located on the driver side edge of the instrument panel. Pull off the cover to access the fuse block. The vehicle may not be equipped with all of t ...