Cooling System
The cooling system allows the engine to maintain the correct working temperature.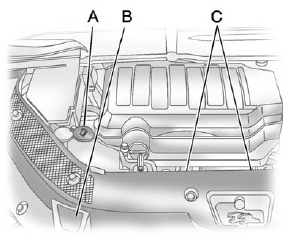 A. Engine Coolant Recovery Tank
B. Radiator Pressure Cap
C. Engine Cooling Fans (Out of View)
WARNING
An electric engine cooling fan under the hood can start up even when the engine is not running and can cause injury. Keep hands, clothing, and tools away from any underhood electric fan.
WARNING
Heater and radiator hoses, and other engine parts, can be very hot. Do not touch them. If you do, you can be burned.
Do not run the engine if there is a leak. If you run the engine, it could lose all coolant. That could cause an engine fire, and you could be burned. Get any leak fixed before you drive the vehicle.
Notice: Using coolant other than DEX-COOLВ® can cause premature engine, heater core, or radiator corrosion. In addition, the engine coolant could require changing sooner, at 50 000 km (30,000 mi) or 24 months, whichever occurs first. Any repairs would not be covered by the vehicle warranty.
Always use DEX-COOL (silicate-free) coolant in the vehicle.
See also:
Consistency of Readings
Always check the fluid level at least twice using the procedure described previously. Consistency (repeatable readings) is important to maintaining proper fluid level. If readings are still inconsiste ...
Front Fog Lamp Light
The fog lamp light comes on when the fog lamps are in use. The light goes out when the fog lamps are turned off. See Fog Lamps on page 6‑5 for more information. ...
Why Safety Belts Work
When riding in a vehicle, you travel as fast as the vehicle does. If the vehicle stops suddenly, you keep going until something stops you. It could be the windshield, the instrument panel, or the s ...