Dome Lamp Override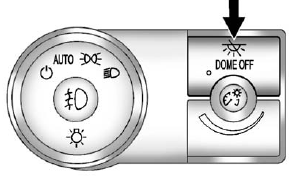 The dome lamp override button is next to the exterior lamps control.

DOME OFF: Press the top of the button in and the dome lamps remain off when a door is opened.
An indicator light on the button comes on to show that the dome lamps are off. Press near the bottom of the button so the dome lamps come on when a door is opened.
See also:
Initial Drive Information
This section provides a brief overview about some of the important features that may or may not be on your specific vehicle. For more detailed information, refer to each of the features which can be ...
Power Steering Fluid
The power steering fluid reservoir is located under the engine cover on the passenger side of the vehicle. See Engine Compartment Overview on page 10‑6 for reservoir location. ...
Turn Signals When Towing a Trailer
The turn signal indicators on the instrument panel flash whenever signaling a turn or lane change. Properly hooked up, the trailer lamps also flash, telling other drivers the vehicle is turning, chan ...