Weight of the Trailer Tongue
The tongue load (A) of any trailer is an important weight to measure because it affects the total gross weight of the vehicle. The Gross Vehicle Weight (GVW) includes the curb weight of the vehicle, any cargo carried in it, and the people who will be riding in the vehicle.
If there are a lot of options, equipment, passengers or cargo in the vehicle, it will reduce the tongue weight the vehicle can carry, which will also reduce the trailer weight the vehicle can tow. If towing a trailer, the tongue load must be added to the GVW because the vehicle will be carrying that weight, too. See Vehicle Load Limits on page 9‑16.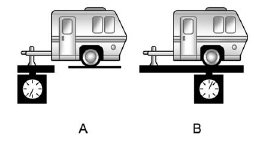 If a weight-carrying hitch or a weight-distributing hitch is being used, the trailer tongue (A) should weigh 10 to 15 percent of the total loaded trailer weight (B).
After loading the trailer, weigh the trailer and then the tongue, separately, to see if the weights are proper. If they are not, adjustments might be made by moving some items around in the trailer.
Trailering may be limited by the vehicle's ability to carry tongue weight. Tongue weight cannot cause the vehicle to exceed the GVWR (Gross Vehicle Weight Rating) or the RGAWR (Rear Gross Axle Weight Rating). The effect of additional weight may reduce the trailering capacity more than the total of the additional weight.
It is important that the vehicle does not exceed any of its ratings — GCWR, GVWR, RGAWR, Maximum Trailer Rating or Tongue Weight. The only way to be sure it is not exceeding any of these ratings is to weigh the vehicle and trailer.
See also:
Cellular Phone Usage
Cellular phone usage can cause interference with the vehicle's radio. ...
Passing
More passing distance is needed when towing a trailer. Because the rig is longer, it is necessary to go farther beyond the passed vehicle before returning to the lane. ...
Finish Damage
Quickly repair minor chips and scratches with touch-up materials available from your dealer to avoid corrosion. Larger areas of finish damage can be corrected in your dealer's body and paint shop. ...