Cruise Control
WARNING
Cruise control can be dangerous where you cannot drive safely at a steady speed. So, do not use the cruise control on winding roads or in heavy traffic.
Cruise control can be dangerous on slippery roads. On such roads, fast changes in tire traction can cause excessive wheel slip, and you could lose control. Do not use cruise control on slippery roads.
For vehicles with cruise control, a speed of about 40 km/h (25 mph) or more can be maintained without keeping your foot on the accelerator. Cruise control does not work at speeds below about 40 km/h (25 mph).
When the brakes are applied, cruise control is turned off.
For vehicles with an Allison or Hydra-Matic 6-speed automatic transmission, see "Grade Braking" under Tow/Haul Mode on page 9‑42 for an explanation of how cruise control interacts with the Range Selection Mode, tow/haul and grade braking systems.
For vehicles with the StabiliTrak system that begins to limit wheel spin while you are using cruise control, the cruise control will automatically disengage. See StabiliTrak® System on page 9‑59.
When road conditions allow the cruise control to be safely used again, it can be turned back on.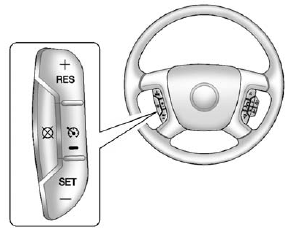 (On/Off): Press to turn the system on or off. The indicator light is on when cruise control is on and turns off when cruise control is off.
+ RES (Resume/Accelerate):
Press briefly to resume to a previously set speed, or press and hold to accelerate.
SET − (Set/Coast): Press to set the speed and activate cruise control or make the vehicle decelerate.

(Cancel): Press to disengage cruise control without erasing the set speed from memory.
See also:
Lap-Shoulder Belt
If the vehicle is a regular cab, then all seating positions in the vehicle have a lap-shoulder belt. If the vehicle is a crew or extended cab, then all seating positions in the vehicle have a lap-shou ...
Turning XM Album Art On or Off
1. From the Home Page press the Config screen button or the CONFIG button on the faceplate. 2. Select Radio Settings from the Config Menu list. 3. Select XM Album Art to turn on or off. ...
Tire Rotation and Required Services Every 12 000 km/7,500 mi
Rotate the tires, if recommended for the vehicle, and perform the following services. See Tire Rotation on page 10‑68. • Check engine oil level and oil life percentage. If needed, change engi ...