Remote Control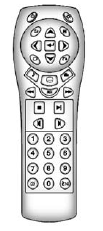 To use the remote control, aim it at the transmitter window at the rear of the RSE overhead console and press the desired button. Direct sunlight or very bright light could affect the ability of the RSE transmitter to receive signals from the remote control. If the remote control does not seem to be working, the batteries might need to be replaced. See "Battery Replacement" later in this section.
Objects blocking the line of sight could also affect the function of the remote control.
If a CD or DVD is in the Radio DVD slot, the remote control O (power) button can be used to turn on the video screen display and start the disc. The radio can also turn on the video screen display. See Operation on page 7‑3 for more information.
Notice: Storing the remote control in a hot area or in direct sunlight can damage it, and the repairs will not be covered by the warranty. Storage in extreme cold can weaken the batteries. Keep the remote control stored in a cool, dry place.
If the remote control becomes lost or damaged, a new universal remote control can be purchased.
If this happens, make sure the universal remote control uses a code set of Toshiba®.
See also:
Power Seats
To adjust a power seat, if equipped: • Move the seat forward or rearward by sliding the control forward or rearward. • If available, raise or lower the front or rear part of the seat cushion ...
Finding a Station
To select the band, see "Audio Source" earlier in this section. Turn the MENU/SEL knob to find a radio station. To select a preset station, touch the FAV button and choose a preset station. Se ...
Shifting Into Two-Wheel Drive High
Turn the knob to the Two-Wheel Drive High position. This can be done at any speed, except when shifting from Four-Wheel Drive Low. See "Shifting Out of Four-Wheel Drive Low" for more information. ...