Reclining Seatbacks
WARNING
Sitting in a reclined position when the vehicle is in motion can be dangerous. Even when buckled up, the safety belts cannot do their job when reclined like this.
The shoulder belt cannot do its job because it will not be against your body. Instead, it will be in front of you. In a crash, you could go into it, receiving neck or other injuries.
The lap belt cannot do its job either. In a crash, the belt could go up over your abdomen. The belt forces would be there, not at your pelvic bones. This could cause serious internal injuries.
For proper protection when the vehicle is in motion, have the seatback upright. Then sit well back in the seat and wear the safety belt properly.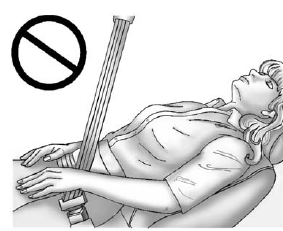 Do not have a seatback reclined if the vehicle is moving.
See also:
Tire Pressure Monitor
This vehicle may have a Tire Pressure Monitor System (TPMS). The TPMS warning light alerts you to a significant loss in pressure of one of the vehicle's tires. If the warning light comes on, ...
Programming Universal Home Remote — Rolling Code
For questions or help programming the Universal Home Remote System, call 1-866-572-2728 or go to www.learcar2u.com. Most garage door openers sold after 1996 are Rolling Code units. Programming a gar ...
Selecting the Right Engine Oil
Selecting the right engine oil depends on both the proper oil specification and viscosity grade. See Recommended Fluids and Lubricants on page 11‑12. ...