Manual Reclining Seatbacks
WARNING
You can lose control of the vehicle if you try to adjust a manual driver seat while the vehicle is moving. The sudden movement could startle and confuse you, or make you push a pedal when you do not want to.
Adjust the driver seat only when the vehicle is not moving.
WARNING
If either seatback is not locked, it could move forward in a sudden stop or crash. That could cause injury to the person sitting there.
Always push and pull on the seatbacks to be sure they are locked.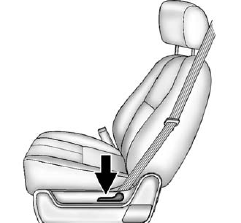 To adjust a manual seatback:
1. Lift the lever.
The seatback will automatically fold forward.
2. To recline, move the seatback rearward to the desired position, then release the lever to lock the seatback in place.
3. Push and pull on the seatback to make sure it is locked.
To return the seatback to the upright position:
1. Lift the lever fully without applying pressure to the seatback, and the seatback will return to the upright position.
2. Push and pull on the seatback to make sure it is locked.
See also:
Ride Control System Messages
SERVICE STABILITRAK This message displays if there is a problem with the StabiliTrak® system. If this message appears, try to reset the system. Stop; turn off the engine for at least 15 seconds; th ...
Exterior
There's hybrid badging on the cab's rear window, ahead of the side mirrors and on the tailgate, but otherwise the hybrid version looks similar to the gas-powered version. ...
Hoses
Hoses transport fluids and should be regularly inspected to ensure that there are no cracks or leaks. With a multi-point inspection, your dealer can inspect the hoses and advise if replacement is nee ...