Hood
To open the hood: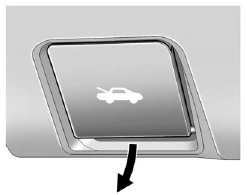 1. Pull the release handle located below the instrument panel to the left of the steering wheel.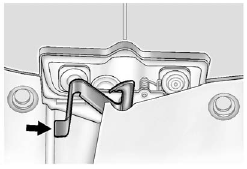 2. Move the secondary hood release lever to the right to release the striker. The lever is near the middle of the hood.
3. Lift the hood.
To close the hood:
1. Before closing the hood, be sure all the filler caps are on properly.
2. Lower the hood 30 cm (12 in) above the vehicle and release it so it fully latches. Check to make sure the hood is closed and repeat the process if necessary.
See also:
Malfunction Indicator Lamp
A computer system called OBD II (On-Board Diagnostics-Second Generation) monitors the operation of the vehicle to ensure emissions are at acceptable levels, to produce a cleaner environment. This ligh ...
Maintenance When Trailer Towing
The vehicle needs service more often when pulling a trailer. See Maintenance Schedule on page 11‑3. Things that are especially important in trailer operation are automatic transmission fluid, e ...
How to Add Coolant to the Radiator
WARNING An electric engine cooling fan under the hood can start up even when the engine is not running and can cause injury. Keep hands, clothing, and tools away from any underhood electric fan. WAR ...