Automatic Headlamp System
When it is dark enough outside, the headlamps come on automatically.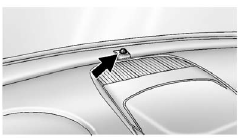 Do not cover the light sensor on top of the instrument panel or the headlamps will come on when they are not needed.
The system may also turn on the headlamps when driving through a parking garage or tunnel.
See also:
Parade Dimming
This feature automatically prohibits the dimming of the instrument panel displays in daylight while the headlamps are on so that the displays are still able to be seen. ...
Weight of the Trailering Combination
It is important that the combination of the tow vehicle and trailer does not exceed any of its weight ratings — GCWR, GVWR, RGAWR, Trailer Weight Rating, or Tongue Weight. The only way to be sure it ...
Integrated Trailer Brake Control System
The vehicle may have an Integrated Trailer Brake Control (ITBC) system for electric trailer brakes. This symbol is located on the Trailer Brake Control Panel on vehicles with an Integrated Trailer ...