Automatic Headlamp System
When it is dark enough outside, the headlamps come on automatically.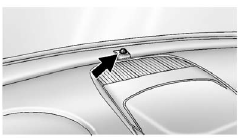 Do not cover the light sensor on top of the instrument panel or the headlamps will come on when they are not needed.
The system may also turn on the headlamps when driving through a parking garage or tunnel.
See also:
Four-Wheel-Drive Light
For vehicles equipped with the four-wheel-drive light, it comes on when a vehicle with a manual transfer case is shifted into four-wheel drive and the front axle engages. Some delay between the shi ...
Fabric/Carpet
Start by vacuuming the surface using a soft brush attachment. If a rotating brush attachment is being used during vacuuming, only use it on the floor carpet. Before cleaning, gently remove as much o ...
Rear Seat Audio (RSA) System
Vehicles with this feature allow the rear seat passengers to listen to and control any of the music sources: radio, CDs, DVDs, or other auxiliary sources. RSA can only control music sources that t ...