Steering Wheel Adjustment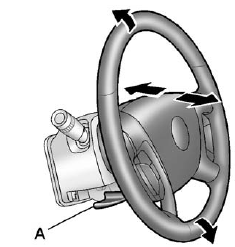 To adjust the steering wheel:
1. Pull the lever (A) down.
2. Move the steering wheel up or down.
3. Pull or push the steering wheel closer or away from you.
4. Push the lever (A) up to lock the steering wheel in place.
Do not adjust the steering wheel while driving.
See also:
Security Light
The security light should come on briefly as the engine is started. If the system is working normally, the indicator light turns off. If it does not come on, have the vehicle serviced by your deale ...
What to Use
WARNING Adding only plain water or some other liquid to the cooling system can be dangerous. Plain water and other liquids, can boil before the proper coolant mixture will. The coolant warning syste ...
Trailer Brakes
A loaded trailer that weighs more than 900 kg (2,000 lbs) needs to have its own brake system that is adequate for the weight of the trailer. Be sure to read and follow the instructions for the trailer ...