Rear Vision Camera (RVC)
The vehicle may have a Rear Vision Camera (RVC) system. Read this entire section before using it.
The RVC can assist the driver when backing up by displaying a view of the area behind the vehicle.
WARNING
The RVC system does not display pedestrians, bicyclists, animals, or any other object located outside the camera's field of view, below the bumper, or under the vehicle.
Do not back the vehicle using only the RVC screen or by using the screen during longer, higher speed backing maneuvers, or where there could be cross-traffic. Perceived distances may be different from actual distances.
Failure to use proper care before backing may result in injury, death, or vehicle damage. Always check before backing by checking behind and around the vehicle.
An image appears on the radio screen with the message Check Surroundings for Safety when the vehicle is shifted into R (Reverse). The radio screen goes to the previous screen after approximately 10 seconds once the vehicle is shifted out of R (Reverse).
To cancel the delay, do one of the following:
○ Press a hard key on the navigation system.
○ Shift into P (Park).
○ Reach a vehicle speed of 8 km/h (5 mph).
Turning the Rear Vision Camera System On or Off
To turn the rear vision camera system on or off:
1. Shift into P (Park).
2. Press the CONFIG button.
3. Select Display.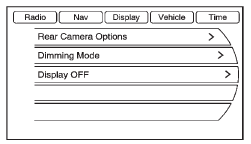 4. Select Rear Camera Options.
5. Select Camera. When a check mark appears next to the Camera option, then the RVC system is on.
See also:
Pulling a Trailer
Important points for pulling a trailer: • There are many different laws, including speed limit restrictions, having to do with trailering. Make sure the rig will be legal, not only where you live ...
Hoses
Hoses transport fluids and should be regularly inspected to ensure that there are no cracks or leaks. With a multi-point inspection, your dealer can inspect the hoses and advise if replacement is nee ...
Engine Compartment Overview
5.3 L V8 Engine Shown (4.3 L V6 Engine, 4.8 L V6 Engine, 6.0 L V8 Engine, and 6.2 L V8 Engine Similar) A. Engine Air Cleaner/Filter on page 10‑17. B. Coolant Surge Tank and Pressure Cap. S ...