Manual Reclining Seatbacks
WARNING
You can lose control of the vehicle if you try to adjust a manual driver seat while the vehicle is moving. The sudden movement could startle and confuse you, or make you push a pedal when you do not want to.
Adjust the driver seat only when the vehicle is not moving.
WARNING
If either seatback is not locked, it could move forward in a sudden stop or crash. That could cause injury to the person sitting there.
Always push and pull on the seatbacks to be sure they are locked.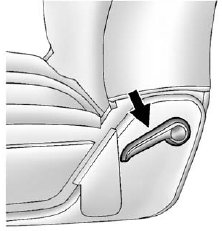 To recline the seatback:
1. Lift the lever.
2. Move the seatback to the desired position, and then release the lever to lock the seatback in place.
3. Push and pull on the seatback to make sure it is locked.
To return the seatback to the upright position:
1. Lift the lever fully without applying pressure to the seatback, and the seatback will return to the upright position.
2. Push and pull on the seatback to make sure it is locked.
See also:
Storing the Tools
A. Tool Bag B. Wing Bolt C. Jack Put back all tools as they were stored in the jack storage compartment and put the compartment cover back on. 1. Ensure that the bottom of the jack is facing tow ...
Cooling System
The cooling system allows the engine to maintain the correct working temperature. A. Engine Coolant Recovery Tank B. Radiator Pressure Cap C. Engine Cooling Fans (Out of View) WARNING An electr ...
Fuses and Circuit Breakers
The wiring circuits in your vehicle are protected from short circuits by a combination of fuses, circuit breakers and fusible thermal links. This greatly reduces the chance of fires caused by electri ...