Seat Adjustment
WARNING
You can lose control of the vehicle if you try to adjust a manual driver seat while the vehicle is moving. The sudden movement could startle and confuse you, or make you push a pedal when you do not want to.
Adjust the driver seat only when the vehicle is not moving.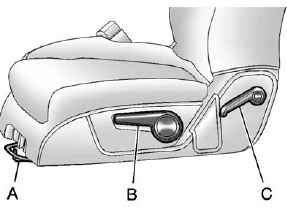 A. Seat Adjustment Handle
B. Driver Seat Height Adjustment Lever
C. Seatback Lever
To adjust a manual seat:
1. Lift the handle (A) under the seat to unlock it.
2. Slide the seat to the desired position, and then release the handle.
3. Try to move the seat back and forth to be sure it is locked in place.
Move the lever (B) up or down to raise or lower the seat.
Use the lever (C) to adjust the seatback. See Reclining Seatbacks on page 3‑5.
See also:
Spacious, refined and versatile interior
The Acadia's interior features a "low and away" instrument panel that enhances the feeling of openness in the front-row seats and provides a commanding outward view. All interior element ...
Shifting out of Park
To shift out of P (Park): 1. Apply the brake pedal. 2. Turn the ignition to ON/RUN. 3. Press the shift lever button. 4. Move the shift lever. If you still are unable to shift out of P (Park): 1. ...
Passing
More passing distance is needed when towing a trailer. Because the rig is longer, it is necessary to go farther beyond the passed vehicle before returning to the lane. ...