Safety Locks
The vehicle has rear door security locks to prevent passengers from opening the rear doors from the inside.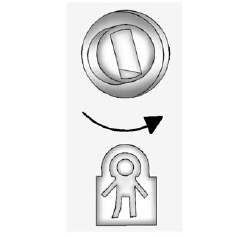 Open the rear doors to access the security locks on the inside edge of each door.
To set the locks, insert a key into the slot and turn it to the horizontal position. The door can only be opened from the outside with the door unlocked. To return the door to normal operation, turn the slot to the vertical position.
See also:
Starting the Engine
If the vehicle has a diesel engine, see the Duramax diesel supplement for more information. If the vehicle is a hybrid, see the hybrid supplement for more information. Notice: Do not try to shift to ...
Care of the HUD
Clean the inside of the windshield as needed to remove any dirt or film that could reduce the sharpness or clarity of the HUD image. To clean the HUD lens, use a soft, clean cloth that has household ...
Power Outlets
Accessory power outlets can be used to plug in electrical equipment, such as a cell phone, MP3 player, etc. The vehicle may have two accessory power outlets located below the climate control system, ...