Manual Seats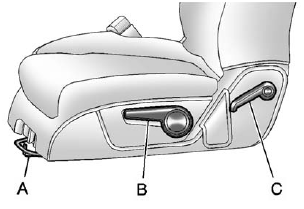 Manual Seats
A. Seat Adjustment Handle
B. Driver Seat Height Adjustment Lever
C. Seatback Lever
To adjust a manual seat:
1. Lift the handle (A) under the seat to unlock it.
2. Slide the seat to the desired position, and then release the handle.
3. Try to move the seat back and forth to be sure it is locked in place.
Move the lever (B) up or down to raise or lower the seat.
Use the lever (C) to adjust the seatback.
See Seat Adjustment on page 3‑3 and Reclining Seatbacks on page 3‑5 for more information.
See also:
How to Check Power Steering Fluid
Notice: Extremely small amounts of contamination can cause steering system damage and cause it to not work properly. Do not allow contaminants to contact the fluid side of the reservoir cap/ dipst ...
Power Reclining Seatbacks
To adjust a power seatback, if available: ○ Tilt the top of the control rearward to recline. ○ Tilt the top of the control forward to raise. ...
Environmental Concerns
○ Always use established trails, roads, and areas that have been set aside for public off-road recreational driving and obey all posted regulations. ○ Do not damage shrubs, flowers, tre ...