Storing a Flat or Spare Tire and Tools
WARNING
Storing a jack, a tire, or other equipment in the passenger compartment of the vehicle could cause injury. In a sudden stop or collision, loose equipment could strike someone. Store all these in the proper place.
To store the flat tire: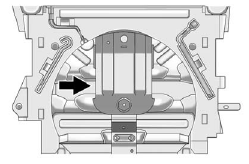 1. Remove the cable package. The cable is stored in a plastic bag under the compact spare tire.
2. Remove the small center cap by tapping the back of the cap with the extension of the shaft, if the vehicle has aluminum wheels.
3. Put the flat tire in the rear storage area with the valve stem pointing toward the rear of the vehicle.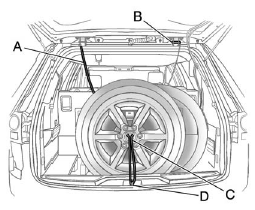 A. Cable
B. Liftgate Hinges
C. Center of the Wheel
D. Door Striker
4. Pull the cable (A) through the door striker (D) then the center of the wheel (C).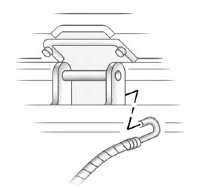 5. Hook the cable onto the outside portion of the liftgate hinges (B).
6. Hook the other end of the cable onto the outside portion of the liftgate hinge on the other side of the vehicle.
7. Pull on the cable to make sure it is secure.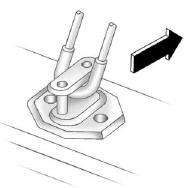 8. Make sure the metal tube is centered at the striker. Push the tube toward the front of the vehicle.
9. Close the liftgate and make sure it is latched properly.
The compact spare is for temporary use only. Replace the compact spare tire with a full-size tire as soon as you can.
See also:
Ejecting a Disc
CD (Eject): Press and release to eject the disc that is currently playing. The CD ejects from the bottom slot. A beep sounds and Ejecting Disc displays. Once the disc is ejected, Remove Disc displays ...
Under the Hood
The Yukon Hybrid uses a two-mode hybrid system. The system augments the SUV's V-8 engine with two electric motors, both powered by a 300-volt battery pack. A cylinder-deactivation system cuts powe ...
What to Do with Used Oil
Used engine oil contains certain elements that can be unhealthy for your skin and could even cause cancer. Do not let used oil stay on your skin for very long. Clean your skin and nails with soap and ...