Rear Wiper Blade Replacement
The rear wiper blade and wiper arm have a cover for protection. The cover must be removed before the wiper blade can be replaced. To remove the cover:

1. Slide a plastic tool under the cover and push upward to unsnap.
2. Slide the cover towards the wiper blade tip to unhook it from the blade assembly.
3. Remove the cover.
4. After wiper blade replacement, ensure that cover hook slides into the slot in the blade assembly.
5. Snap the cover down to secure.
To remove the wiper blade:
1. Lift the wiper arm away from the windshield.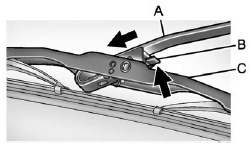 A. Wiper Arm
B. Release Lever
C. Blade Assembly
2. Push the release lever (B) to disengage the hook and push the wiper arm (A) out of the blade assembly (C).
3. Push the new blade assembly securely on the wiper arm until the release lever clicks into place.
4. Replace the wiper cover.
See also:
TPMS Sensor Matching Process
Each TPMS sensor has a unique identification code. The identification code needs to be matched to a new tire/wheel position after rotating the vehicle's tires or replacing one or more of the TPMS se ...
The Inside
Here's where GM has really outdone itself in its new SUVs. Like the Tahoe, the Yukon shows off one of the best interiors GM has ever mustered in a mass-marketed vehicle. All the buttons are of abo ...
Windshield Replacement
If the vehicle is equipped with the Head-Up display (HUD) system and the windshield needs to be replaced, get one that is designed for HUD or the HUD image may look out of focus. ...