Tailgate Removal
The tailgate can be removed to allow for different loading situations.
Assistance may be needed with the removal to avoid damage to the vehicle.
On vehicles with a Rear Vision Camera, it must be disconnected before removing the tailgate. See Rear Vision Camera (RVC) on page 9‑68 for more information.
To remove the tailgate: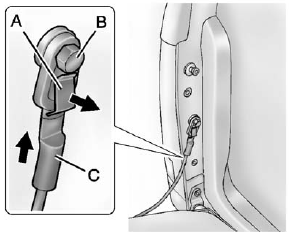 1. Raise the tailgate slightly, pull out and hold the cable retaining clip (A). Push the cable (C) up and off of the bolt (B). Repeat on the other side.
2. With the tailgate about halfway open, lift the right edge of the tailgate from the lower pivot.
On vehicles with the tailgate assist feature, raise the tailgate nearly all the way to the closed position prior to removing the left edge.
3. Move the tailgate to the right to release the left edge.
Reverse this procedure to reinstall the tailgate. Make sure the tailgate is secure.
See also:
Doing Your Own Service Work
If the vehicle is a hybrid, see the hybrid supplement for more information. WARNING You can be injured and the vehicle could be damaged if you try to do service work on a vehicle without knowing eno ...
Storage Compartments
For vehicles with a second row center console, press the buttons (B) or (C) to access storage areas. Lift up on (A) for additional storage area. See Floor Console Storage on page 4‑3. ...
Interior details and flexibility
The GMC Terrain's rich, premium interior is influenced by industrial sculpture and exudes refinement exemplified by contrast stitching and fine materials that create a structured look throughout t ...