Front Wiper Blade Replacement
To replace the front wiper blades:
1. Lift the wiper arm from the windshield until no further movement is possible.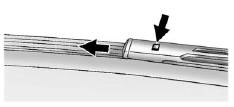 2. Press the square button on the top side, at the end of the wiper arm, and pull the wiper blade out of the end of the wiper arm.
3. Install the wiper blade connector by sliding into the end of the wiper arm until the square button on the wiper blade clicks into place with the wiper arm.
4. Place the wiper arm with the wiper blade in place back on the windshield.
See also:
Memory Remote Recall
The memory feature can recall the driver seat, outside mirrors, and pedals, if equipped, to stored positions when entering the vehicle. To activate, unlock the driver door with the Remote Keyless Ent ...
Setting the Clock
To set the time and date: 1. Turn the ignition key to ACC/ ACCESSORY or ON/RUN, then press , to turn the radio on. 2. Press to display HR, MIN, MM, DD, and YYYY (hour, minute, month, day, and yea ...
Stopping and Resuming Playback
To stop playing a DVD without turning off the system, do one of the following: • Press on the remote control. • Press the softkey under the stop or the play/pause icons displayed on the radio. ...