Fuel
Use of the recommended fuel is an important part of the proper maintenance of this vehicle. To help keep the engine clean and maintain optimum vehicle performance, we recommend the use of gasoline advertised as TOP TIER Detergent Gasoline.
Look for the TOP TIER label on the fuel pump to ensure gasoline meets enhanced detergency standards developed by auto companies. A list of marketers providing TOP TIER Detergent Gasoline can be found at www.toptiergas.com.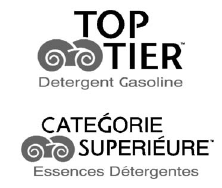 Vehicles that have a FlexFuel badge and a yellow fuel cap can use either unleaded gasoline or ethanol fuel containing up to 85% ethanol (E85). See Fuel E85 (85% Ethanol) on page 9‑53. For all other vehicles, use only the unleaded gasoline described under Recommended Fuel on page 9‑51.
See also:
Shifting Into Four-Wheel Drive Low
When Four-Wheel Drive Low is engaged, vehicle speed should be kept below 72 km/h (45 mph). Extended high-speed operation in Four-Wheel Drive Low may damage or shorten the life of the drivetrain. To ...
Accessories and Modifications
Adding non-dealer accessories or making modifications to the vehicle can affect vehicle performance and safety, including such things as airbags, braking, stability, ride and handling, emissions syste ...
Theft-Deterrent Feature
TheftLock® is designed to discourage theft of the vehicle's radio by learning a portion of the Vehicle Identification Number (VIN). The radio does not operate if it is stolen or moved to a different ...