Fuel Economy Mode
Vehicles with a 2.4L engine have a Fuel Economy Mode. When engaged, fuel economy mode can improve the vehicle's fuel economy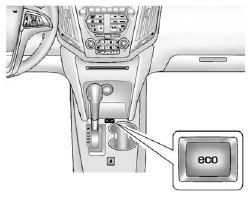 Press the "eco" (economy) button by the shift lever to turn this feature on or off. The "eco" light in the instrument cluster will come on when engaged. See Fuel Economy Light on page 5‑21.
A Driver Information Center (DIC) message "ECO MODE ON" is also displayed. See Fuel System Messages on page 5‑29 for more information.
When Fuel Economy Mode is on:
○ The transmission will upshift sooner and downshift later.
○ The torque converter clutch will apply sooner and stay on longer.
○ The gas pedal will be less sensitive.
○ The vehicle's computer will more aggressively shut off fuel to the engine under deceleration.
○ The engine idle speed will be lower.
○ Driving performance is more conservative.
See also:
XM™ Radio Messages
XL (Explicit Language Channels): These channels, or any others, can be blocked at a customer's request, by calling 1-800-929-2100 in the U.S. and 1-877-438-9677 in Canada. XM Updating: The encryption ...
Tow/Haul Mode
Pressing this button at the end of the shift lever turns on and off the Tow/Haul Mode. This indicator light on the instrument panel cluster comes on when the Tow/Haul Mode is on. Tow/Haul is a f ...
License Plate Lamp
To replace one of these bulbs: 1. Remove the two screws holding each of the license plate lamps to the liftgate trim. 2. Turn and pull the license plate lamp forward through the liftgate trim open ...