Fuel Economy Mode
Vehicles with a 2.4L engine have a Fuel Economy Mode. When engaged, fuel economy mode can improve the vehicle's fuel economy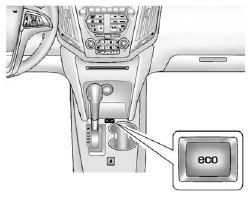 Press the "eco" (economy) button by the shift lever to turn this feature on or off. The "eco" light in the instrument cluster will come on when engaged. See Fuel Economy Light on page 5‑21.
A Driver Information Center (DIC) message "ECO MODE ON" is also displayed. See Fuel System Messages on page 5‑29 for more information.
When Fuel Economy Mode is on:
○ The transmission will upshift sooner and downshift later.
○ The torque converter clutch will apply sooner and stay on longer.
○ The gas pedal will be less sensitive.
○ The vehicle's computer will more aggressively shut off fuel to the engine under deceleration.
○ The engine idle speed will be lower.
○ Driving performance is more conservative.
See also:
Engine Coolant Temperature Warning Light
The engine coolant temperature warning light comes on briefly when the vehicle is started. If it does not, have the vehicle serviced by your dealer. If the system is working normally, the indicator ...
Battery Replacement
To change the batteries on the headphones: 1. Turn the screw to loosen the battery door located on the left side of the headphones. Slide the battery door open. 2. Replace the two batteries in the c ...
Dome Lamp Override
The dome lamp override button is next to the exterior lamps control. DOME OFF: Press the top of the button in and the dome lamps remain off when a door is opened. An indicator light on the button ...