Key Lock Release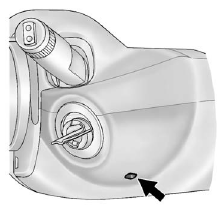 Vehicles with an automatic transmission are equipped with an electronic key lock release system.
The key lock release is designed to prevent ignition key removal unless the shift lever is in P (Park).
The key lock release is always functional except in the case of an uncharged or low voltage (less than 9&-volt) battery. If the vehicle has an uncharged battery or a battery with low voltage, try charging or jump starting the battery. See Jump Starting on page 10‑76.
If charging or jump starting the battery does not work, locate the hole below the ignition lock. Insert a flat bladed tool or another key from the key chain into the opening. When the lever can be felt, actuate the lever toward the driver, and remove the key from the ignition.
See also:
Driving for Better Fuel Economy
Driving habits can affect fuel mileage. Here are some driving tips to get the best fuel economy possible. • Avoid fast starts and accelerate smoothly. • Brake gradually and avoid abrupt stops. ...
Control of a Vehicle
Braking, steering, and accelerating are important factors in helping to control a vehicle while driving. ...
Grade Braking (6-Speed Automatic Transmission)
The Grade Braking shift modes can be activated by pressing the button on the end of the shift control lever. While in Range Selection Mode, Grade Braking is deactivated allowing the driver to select ...