Key Lock Release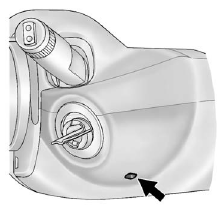 Vehicles with an automatic transmission are equipped with an electronic key lock release system.
The key lock release is designed to prevent ignition key removal unless the shift lever is in P (Park).
The key lock release is always functional except in the case of an uncharged or low voltage (less than 9&-volt) battery. If the vehicle has an uncharged battery or a battery with low voltage, try charging or jump starting the battery. See Jump Starting on page 10‑76.
If charging or jump starting the battery does not work, locate the hole below the ignition lock. Insert a flat bladed tool or another key from the key chain into the opening. When the lever can be felt, actuate the lever toward the driver, and remove the key from the ignition.
See also:
Reverse Gear Wipes
If the rear wiper control is off, the rear wiper will automatically operate continuously when the shift lever is in R (Reverse), and the front windshield wiper is performing low or high speed wipe ...
Battery Load Management
The vehicle has Electric Power Management (EPM) that estimates the battery's temperature and state of charge. It then adjusts the voltage for best performance and extended life of the battery. When t ...
Anti-theft Alarm System
On vehicles with an anti-theft alarm system, to activate the system: • Press on the Remote Keyless Entry (RKE) transmitter or the power door lock switch when any door is open. The security ligh ...