Automatic Climate Control System
The vehicle's heating, cooling, defrosting, and ventilation can be controlled with this system.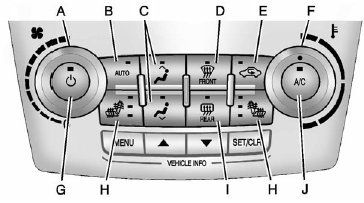 A. Fan Control
B. AUTO (Automatic Operation)
C. Air Delivery Mode Controls
D. Front Defrost
E. Recirculation
F. Temperature Control
G. Power
H. Driver and Passenger Heated Seats
I. Rear Window Defogger
J. Air Conditioning
See also:
When to Check Power Steering Fluid
It is not necessary to regularly check power steering fluid unless you suspect there is a leak in the system or you hear an unusual noise. A fluid loss in this system could indicate a problem. Have th ...
Traction Off Light
This light comes on briefly while starting the engine. If it does not, have the vehicle serviced by your dealer. If the system is working normally, the indicator light then turns off. The tract ...
Windshield
For safety, appearance, and the best viewing, keep the windshield clean and clear. • Signs of damage include scratches, cracks, and chips. • Trained dealer technicians can inspect the windshield ...