Automatic Headlamp System
When it is dark enough outside, the headlamps come on automatically.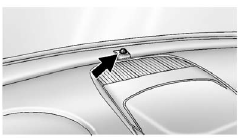 Do not cover the light sensor on top of the instrument panel or the headlamps will come on when they are not needed.
The system may also turn on the headlamps when driving through a parking garage or tunnel.
See also:
General Towing Information
Only use towing equipment that has been designed for the vehicle. Contact your dealer or trailering dealer for assistance with preparing the vehicle for towing a trailer. See the following trailer t ...
Weight of the Trailer Tongue
The tongue load (A) of any trailer is an important weight to measure because it affects the total gross weight of the vehicle. The Gross Vehicle Weight (GVW) includes the curb weight of the vehicl ...
Protecting Exterior Bright Metal Parts
Regularly clean bright metal parts with water or chrome polish on chrome or stainless steel trim, if necessary. For aluminum, never use auto or chrome polish, steam, or caustic soap to clean. A c ...