Why Safety Belts Work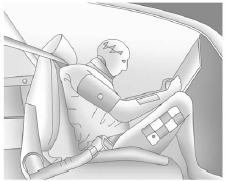 When riding in a vehicle, you travel as fast as the vehicle does. If the vehicle stops suddenly, you keep going until something stops you. It could be the windshield, the instrument panel, or the safety belts!
When you wear a safety belt, you and the vehicle slow down together. There is more time to stop because you stop over a longer distance and, when worn properly, your strongest bones take the forces from the safety belts. That is why wearing safety belts makes such good sense.
Questions and Answers About Safety Belts
Q: Will I be trapped in the vehicle after a crash if I am wearing a safety belt?
A: You could be — whether you are wearing a safety belt or not. Your chance of being conscious during and after a crash, so you can unbuckle and get out, is much greater if you are belted.
Q: If my vehicle has airbags, why should I have to wear safety belts?
A: Airbags are supplemental systems only; so they work with safety belts — not instead of them. Whether or not an airbag is provided, all occupants still have to buckle up to get the most protection.
Also, in nearly all states and in all Canadian provinces, the law requires wearing safety belts.
See also:
Courtesy Transportation Program (U.S. and Canada)
To enhance your ownership experience, we and our participating dealers are proud to offer Courtesy Transportation, a customer support program for vehicles with the Bumper-to-Bumper (Base Warranty Cove ...
Washing the Vehicle
To preserve the vehicle's finish, wash it often and out of direct sunlight. Notice: Do not use petroleum based, acidic, or abrasive cleaning agents as they can damage the vehicle's paint, m ...
Power Sliding Rear Window
On vehicles with a power sliding rear window, the switch is located in the overhead console. See Rear Windows on page 2‑19. • Push the switch to open the window. • Pull the switch to c ...