Power Reclining Seatbacks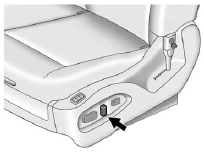 To adjust a power seatback, if available:
○ Tilt the top of the control rearward to recline.
○ Tilt the top of the control forward to raise.
See also:
Different Size Tires and Wheels
If wheels or tires are installed that are a different size than the original equipment wheels and tires, vehicle performance, including its braking, ride and handling characteristics, stability, and r ...
Skidding
There are three types of skids that correspond to the vehicle's three control systems: • Braking Skid — wheels are not rolling. • Steering or Cornering Skid — too much speed or steering in a ...
Compass Calibration
The compass can be manually calibrated. Only calibrate the compass in a magnetically clean and safe location, such as an open parking lot, where driving the vehicle in circles is not a danger. It is ...