Dual Automatic Climate Control System
The heating, cooling, and ventilation in the vehicle can be controlled with this system. The vehicle also has a flow-through ventilation system described later in this section.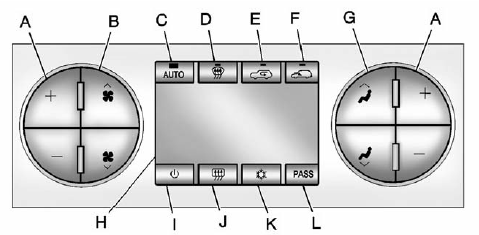 A. Driver and Passenger Temperature Controls
B. Fan Control
C. AUTO
D. Defrost
E. Recirculation
F. Outside Air
G. Air Delivery Mode Control
H. Display
I. On/Off
J. Rear Window Defogger
K. Air Conditioning
L. PASS (Passenger)

(On/Off): Press to turn the climate control system on or off.
Outside air still enters the vehicle, and is directed to the floor. This direction can be changed by pressing the mode button.
Recirculation can be selected once you have selected vent or bi-level mode. The temperature can also be adjusted using either temperature button. If the air delivery mode or temperature settings are adjusted with the system off, the display illuminates briefly to show the settings and then returns to off. The system can be turned back on by pressing either

,

,

,

, the defrost or the AUTO button.
See also:
Scheduling Service Appointments (U.S. and Canada)
When the vehicle requires warranty service, contact your dealer and request an appointment. By scheduling a service appointment and advising the service consultant of your transportation needs, your d ...
Memory Seats
Memory Seats On vehicles with the memory feature, the controls on the driver door are used to program and recall memory settings for the driver seat, outside mirrors, and the adjustable throttle an ...
USB-Supported File and Folder Structure
The radio supports: • Up to 700 folders • Up to eight folders in depth • Up to 65,535 files. • Folder and file names up to 64 bytes • Files with an .mp3 or .wma file extension • AAC ...