Sunroof (Extended Cab)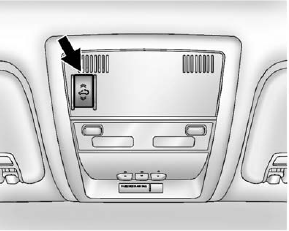 Sunroof (Extended Cab)
On vehicles with a sunroof, the sunroof only operates when the ignition is in the ACC/ACCESSORY or ON/RUN or the Retained Accessory Power (RAP) is active.
See Retained Accessory Power (RAP) on page 9‑32 for more information.
Vent: From the closed position, press and hold the rear of the switch to vent the sunroof. To close the sunroof, press and hold the front of the switch.
Open: From the vent position, the sunroof can be fully opened either manually or by using the express-open feature. To open manually, press the rear of the switch to the first detent and hold until the sunroof has reached the desired position. To open using express-open, press the rear of the switch to the second detent and release. The sunroof will move to the full open position. To stop the sunroof partway, press the switch a second time.
Close: From the vent, or open position, press and hold the front of the switch to close the sunroof.
The sunroof also has a roller sunshade that can be used to block the rays of the sun. The roller sunshade can be manually operated with the sunroof in an open or closed position. To open the sunshade, press and unlatch it, and roll it back. To close, pull it forward and latch it into the closed position.
When the sunroof is opened, an air deflector will automatically raise.
The air deflector will retract when the sunroof is closed.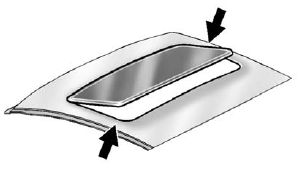 Dirt and debris may collect on the sunroof seal or in the track. This could cause an issue with sunroof operation or noise. It could also plug the water drainage system.
Periodically open the sunroof and remove any obstacles or loose debris. Wipe the sunroof seal and roof sealing area using a clean cloth, mild soap, and water. Do not remove grease from the sunroof.
See also:
Emergency
With Automatic Crash Response, the built-in system can automatically connect to help in a crash even if you cannot ask for it. Push to connect to an Emergency Advisor. GPS technology is used to iden ...
Manual Liftgate
To unlock the liftgate, press the power door lock switch or press " on the Remote Keyless Entry (RKE) transmitter twice. See Remote Keyless Entry (RKE) System Operation on page 2‑3. To ...
The Inside
Here's where GM has really outdone itself in its new SUVs. Like the Tahoe, the Yukon shows off one of the best interiors GM has ever mustered in a mass-marketed vehicle. All the buttons are of abo ...