Shoulder Belt Height Adjuster
The vehicle has a shoulder belt height adjuster for the driver and right front passenger.
Adjust the height so the shoulder portion of the belt is on the shoulder and not falling off of it. The belt should be close to, but not contacting, the neck. Improper shoulder belt height adjustment could reduce the effectiveness of the safety belt in a crash. See How to Wear Safety Belts Properly on page 3‑13.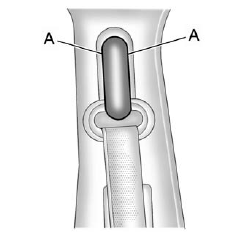 Regular and Crew Cab
To move the adjuster down for the regular and crew cabs, squeeze the buttons (A) on the sides of the height adjuster and move the height adjuster to the desired position.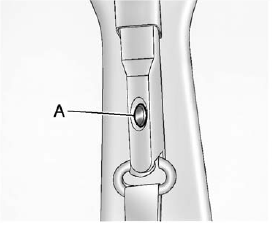 Extended Cab
On the extended cab, push down on the release button (A) and move the height adjuster to the desired position.
You can move the adjuster up just by pushing up on the shoulder belt guide.
After you move the adjuster to where you want it, try to move it down, without squeezing the buttons for the regular and crew cabs, or without pushing the release button for extended cabs, to make sure it has locked into position.
See also:
DVD Error Messages
Player Error: This message displays when there are disc load or eject problems. Disc Format Error: This message displays if the disc is inserted with the disc label wrong side up, or if the disc is d ...
Safety Belt Pretensioners
This vehicle has safety belt pretensioners for front outboard occupants. Although the safety belt pretensioners cannot be seen, they are part of the safety belt assembly. They can help tighten the sa ...
Footnotes — Maintenance Schedule Additional Required Services — Severe
a) Or every two years, whichever comes first. b) Check all fuel and vapor lines and hoses for proper hook-up, routing, and condition. Check that the purge valve, if the vehicle has one, works properl ...