Storing the Tools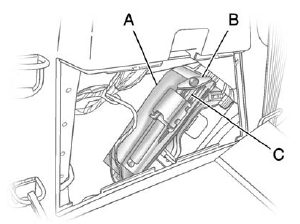 A. Tool Bag
B. Wing Bolt
C. Jack
Put back all tools as they were stored in the jack storage compartment and put the compartment cover back on.
1. Ensure that the bottom of the jack is facing toward you.
2. Replace the tool bag (A).
3. Turn the jack (C) on its side and place down on the holding bracket.
4. Reinstall the wing bolt (B) by turning clockwise.
5. To replace the cover, line up the tab at the front of the cover with the notch in the cover opening.
Push the cover in place and make sure that the rear clips are in the slots and push the cover closed.
Store the center cap or the plastic bolt-on wheel covers until a full size tire is put back on the vehicle.
When you replace the compact spare with a full-size tire, reinstall the bolt-on wheel covers or the center cap. Hand-tighten them over the wheel nuts, using the wrench.
See also:
Using the "Delete All Name Tags" Command
This command deletes all stored name tags in the Hands-Free Calling Directory and the OnStar Turn-by-Turn Destinations Directory, if equipped. To delete all name tags: 1. Press and hold for two sec ...
Why Safety Belts Work
When riding in a vehicle, you travel as fast as the vehicle does. If the vehicle stops suddenly, you keep going until something stops you. It could be the windshield, the instrument panel, or the s ...
TPMS Sensor Matching Process
Each TPMS sensor has a unique identification code. The identification code needs to be matched to a new tire/wheel position after rotating the vehicle's tires or replacing one or more of the TPMS se ...