Storing the Tools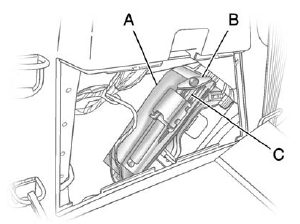 A. Tool Bag
B. Wing Bolt
C. Jack
Put back all tools as they were stored in the jack storage compartment and put the compartment cover back on.
1. Ensure that the bottom of the jack is facing toward you.
2. Replace the tool bag (A).
3. Turn the jack (C) on its side and place down on the holding bracket.
4. Reinstall the wing bolt (B) by turning clockwise.
5. To replace the cover, line up the tab at the front of the cover with the notch in the cover opening.
Push the cover in place and make sure that the rear clips are in the slots and push the cover closed.
Store the center cap or the plastic bolt-on wheel covers until a full size tire is put back on the vehicle.
When you replace the compact spare with a full-size tire, reinstall the bolt-on wheel covers or the center cap. Hand-tighten them over the wheel nuts, using the wrench.
See also:
Collision Alert
When your vehicle approaches another vehicle too rapidly, the red FCA display will flash and sound several beeps. When this occurs, the brake system prepares for driver braking to occur more rap ...
Using Softkeys to Control a USB Storage Device or iPod
The five softkeys below the radio display are used to control the functions listed below. To use the softkeys: 1. Press the first or fifth softkey below the radio display to display the functions li ...
Engine Oil Pressure Light
WARNING Do not keep driving if the oil pressure is low. The engine can become so hot that it catches fire. Someone could be burned. Check the oil as soon as possible and have the vehicle serviced. ...