Tire Designations
Tire Size
The following is an example of a typical passenger vehicle tire size.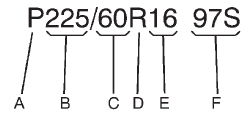 (A) Passenger (P-Metric) Tire:
The United States version of a metric tire sizing system.
The letter P as the first character in the tire size means a passenger vehicle tire engineered to standards set by the U.S. Tire and Rim Association.
(B) Tire Width: The three-digit number indicates the tire section width in millimeters from sidewall to sidewall.
(C) Aspect Ratio: A two-digit number that indicates the tire height-to-width measurements.
For example, if the tire size aspect ratio is 60, as shown in item C of the illustration, it would mean that the tire's sidewall is 60 percent as high as it is wide.
(D) Construction Code:
A letter code is used to indicate the type of ply construction in the tire. The letter R means radial ply construction; the letter D means diagonal or bias ply construction; and the letter B means belted-bias ply construction.
(E) Rim Diameter: Diameter of the wheel in inches.
(F) Service Description:
These characters represent the load index and speed rating of the tire. The load index represents the load carrying capacity a tire is certified to carry. The speed rating is the maximum speed a tire is certified to carry a load.
See also:
Different Size Tires and Wheels
If wheels or tires are installed that are a different size than the original equipment wheels and tires, vehicle performance, including its braking, ride and handling characteristics, stability, and r ...
OnStar®
If equipped, this vehicle has a comprehensive, in-vehicle system that can connect to a live Advisor for Emergency, Security, Navigation, Connection, and Diagnostic Services. See OnStar Overview on pag ...
Storing Radio Stations
A maximum of 36 stations can be stored as favorites using the six softkeys located below the radio station frequency tabs and by using the radio FAV button. Press FAV to go through up to six pages of ...