Trademarks and License Agreements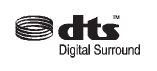 Manufactured under license under U.S. Patent #'s: 5,451,942;
5,956,674; 5,974,380; 5,978,762;
6,487,535 & other U.S. and worldwide patents issued &
pending. DTS and DTS Digital Surround are registered trademarks and the DTS logos and Symbol are trademarks of DTS, Inc.
© 1996-2010 DTS, Inc. All Rights Reserved.

Manufactured under license from Dolby Laboratories. Dolby and the double-D symbol are trademarks of Dolby Laboratories. Copyright 1992-2010 Dolby Laboratories.
All rights reserved.
See also:
Error Messages
If Disc Error displays and/or the disc comes out, it could be for one of the following reasons: ○ The disc has an invalid or unknown format. ○ The disc is very hot. Try the disc again ...
Vehicle Personalization (With DIC Buttons)
Your vehicle may have customization capabilities that allow you to program certain features to one preferred setting. Customization features can only be programmed to one setting on the vehicle and ca ...
Front Axle
The front axle engages and disengages automatically when you shift the transfer case. Some delay for the axle to engage or disengage is normal. ...