Battery Replacement
Replace the battery if the REPLACE BATTERY IN REMOTE KEY message displays in the DIC.
Notice: When replacing the battery, do not touch any of the circuitry on the transmitter.
Static from your body could damage the transmitter.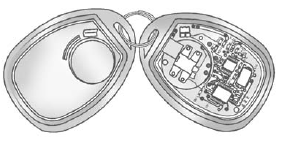 1. Separate the transmitter with a flat, thin object, such as a flat head screwdriver.
• Carefully insert the tool into the notch located along the parting line of the transmitter. Do not insert the tool too far. Stop as soon as resistance is felt.
• Twist the tool until the transmitter is separated.
2. Remove the old battery. Do not use a metal object.
3. Insert the new battery, positive side facing down. Replace with a CR2032 or equivalent battery.
4. Snap the transmitter back together.
See also:
Using the "Delete All Name Tags" Command
This command deletes all stored name tags in the Hands-Free Calling Directory and the OnStar Turn-by-Turn Destinations Directory, if equipped. To delete all name tags: 1. Press and hold for two sec ...
Trailer Towing
Three important considerations have to do with weight: • The weight of the trailer • The weight of the trailer tongue • The total weight on the vehicle's tires ...
Driving in Water
WARNING Driving through rushing water can be dangerous. Deep water can sweep your vehicle downstream and you and your passengers could drown. If it is only shallow water, it can still wash away t ...