Rear Wiper Blade Replacement
The rear wiper blade and wiper arm have a cover for protection. The cover must be removed before the wiper blade can be replaced. To remove the cover:

1. Slide a plastic tool under the cover and push upward to unsnap.
2. Slide the cover towards the wiper blade tip to unhook it from the blade assembly.
3. Remove the cover.
4. After wiper blade replacement, ensure that cover hook slides into the slot in the blade assembly.
5. Snap the cover down to secure.
To remove the wiper blade:
1. Lift the wiper arm away from the windshield.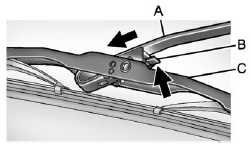 A. Wiper Arm
B. Release Lever
C. Blade Assembly
2. Push the release lever (B) to disengage the hook and push the wiper arm (A) out of the blade assembly (C).
3. Push the new blade assembly securely on the wiper arm until the release lever clicks into place.
4. Replace the wiper cover.
See also:
Wheel Alignment and Tire Balance
The tires and wheels were aligned and balanced at the factory to provide the longest tire life and best overall performance. Adjustments to wheel alignment and tire balancing will not be necessary on ...
Brake System Warning Light
With the ignition on, the brake system warning light comes on when the parking brake is set. If the vehicle is driven with the parking brake engaged, a chime sounds when the vehicle speed is greater t ...
Using the "Delete All Name Tags" Command
This command deletes all stored name tags in the Hands-Free Calling Directory and the OnStar Turn-by-Turn Destinations Directory, if equipped. To delete all name tags: 1. Press and hold for two sec ...