Steering Wheel Controls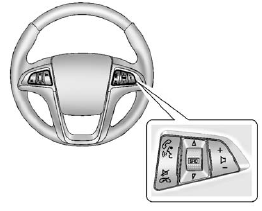 For vehicles with audio steering wheel controls, some audio controls can be adjusted at the steering wheel.

(Push to Talk): For vehicles with Bluetooth® or OnStar®, press to interact with those systems. See Bluetooth (Overview) on page 7‑34 or Bluetooth (Infotainment Controls) on page 7‑36 or Bluetooth (Voice Recognition) on page 7‑39 or OnStar Overview on page 14‑1 for more information.

(Mute/End Call): Press to reject an incoming call, or end a current call. Press to silence the vehicle speakers while using the infotainment system. Press again to turn the sound on.

(Toggle Switch): Press to select an audio source.
Toggle up or down to select the next or previous favorite radio station or CD/MP3 track.

(Volume): Press + or − to increase or decrease the volume.
See also:
Shifting Into Four-Wheel Drive High or AUTO (Automatic Four-Wheel Drive)
Turn the knob to the Four-Wheel Drive High or AUTO position. This can be done at any speed, except when shifting from Four-Wheel Drive Low. The indicator light will flash while shifting. It will remai ...
Receiving a Call
When an incoming call is received, the audio system mutes and a ring tone is heard in the vehicle. • Press to answer the call. • Press to ignore a call. ...
Introduction
The names, logos, emblems, slogans, vehicle model names, and vehicle body designs appearing in this manual including, but not limited to, GM, the GM logo, GMC, the GMC Truck Emblem, and SIERRA are ...