Why Safety Belts Work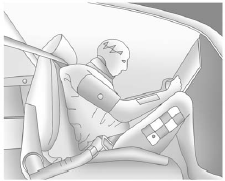 When riding in a vehicle, you travel as fast as the vehicle does. If the vehicle stops suddenly, you keep going until something stops you. It could be the windshield, the instrument panel, or the safety belts!
When you wear a safety belt, you and the vehicle slow down together. There is more time to stop because you stop over a longer distance and, when worn properly, your strongest bones take the forces from the safety belts. That is why wearing safety belts makes such good sense.
Questions and Answers About Safety Belts
Q: Will I be trapped in the vehicle after a crash if I am wearing a safety belt?
A: You could be — whether you are wearing a safety belt or not. Your chance of being conscious during and after a crash, so you can unbuckle and get out, is much greater if you are belted.
Q: If my vehicle has airbags, why should I have to wear safety belts?
A: Airbags are supplemental systems only; so they work with safety belts — not instead of them. Whether or not an airbag is provided, all occupants still have to buckle up to get the most protection.
Also, in nearly all states and in all Canadian provinces, the law requires wearing safety belts.
See also:
Fuel Range
Press the trip/fuel button until FUEL RANGE displays. This display shows the approximate number of remaining kilometers (km) or miles the vehicle can be driven without refueling. The display will show ...
Wiper Blade Replacement
Windshield wiper blades should be inspected for wear or cracking. See Maintenance Schedule on page 11‑3 for more information on wiper blade inspection. Replacement blades come in different type ...
Shuffle Functionality
To use Shuffle: Press the softkey below , , , or to select between Shuffle Off, Shuffle All Songs/ Shuffle Songs, Shuffle Album, or Shuffle Folder. (Shuffle Off): This is the default mode when a ...