Range Selection Mode (Allison® Transmission or Hydra-Matic® 6-Speed Transmission)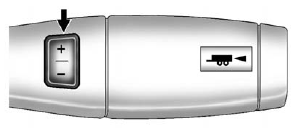 The vehicle may have a Range Selection Mode. The Range Selection Mode helps control the vehicle's transmission and vehicle speed while driving down hill or towing a trailer by letting you select a desired range of gears.
To use this feature, do the following:
1. Move the shift lever to M(Manual Mode).
2. Press the plus/minus buttons, located on the steering column shift lever, to select the desired range of gears for current driving conditions.
When M(Manual Mode) is selected a number displays next to the M, indicating the current gear.
This number is the highest gear that can be used. However, the vehicle can automatically shift to lower gears as it adjusts to driving conditions. This means that all gears below that number are available. When 5 (Fifth) is selected, 1 (First) through 5 (Fifth) gears are automatically shifted by the vehicle, but 6 (Sixth) cannot be used until the plus/minus button located on the steering column lever is used to change to the gear.
Grade Braking is not available when Range Selection Mode is active.
See Tow/Haul Mode on page 9‑42.
While using Range Selection Mode, Cruise Control and the Tow/Haul Mode can be used.
If the vehicle has an exhaust brake, it can also be used, but will not automatically downshift the transmission. See Exhaust Brake in the Duramax Diesel supplement.
Notice: Spinning the tires or holding the vehicle in one place on a hill using only the accelerator pedal may damage the transmission. The repair will not be covered by the vehicle warranty. If you are stuck, do not spin the tires. When stopping on a hill, use the brakes to hold the vehicle in place.
See also:
Replacing Safety Belt System Parts after a Crash
WARNING A crash can damage the safety belt system in the vehicle. A damaged safety belt system may not properly protect the person using it, resulting in serious injury or even death in a crash. To ...
Backing Up
Hold the bottom of the steering wheel with one hand. To move the trailer to the left, move that hand to the left. To move the trailer to the right, move your hand to the right. Always back up slowly a ...
Seat Adjustment
WARNING You can lose control of the vehicle if you try to adjust a manual driver seat while the vehicle is moving. The sudden movement could startle and confuse you, or make you push a pedal when ...