Off-Road Recovery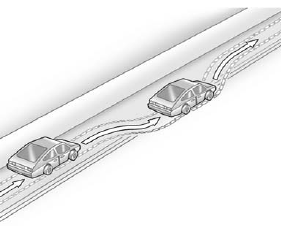 The vehicle's right wheels can drop off the edge of a road onto the shoulder while driving. Follow these tips:
1. Ease off the accelerator and then, if there is nothing in the way, steer the vehicle so that it straddles the edge of the pavement.
2. Turn the steering wheel about one-eighth of a turn, until the right front tire contacts the pavement edge.
3. Then turn the steering wheel to go straight down the roadway.
See also:
Using the "Digit Store" Command
If an unwanted number is recognized by the system, say "Clear" at any time to clear the last number. To hear all of the numbers recognized by the system, say "Verify" at any time. 1. Press a ...
Tow/Haul Mode Light
This light comes on when the Tow/Haul mode has been activated. For more information, see Tow/Haul Mode on page 9‑26. ...
Cruise Control Light
The cruise control light is white whenever the cruise control is set, and turns green when the cruise control is active. The light turns off when the cruise control is turned off. See Cruise Cont ...