Off-Road Recovery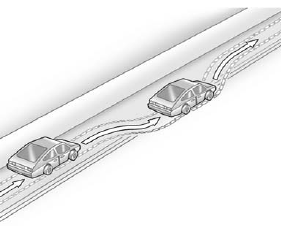 The vehicle's right wheels can drop off the edge of a road onto the shoulder while driving. Follow these tips:
1. Ease off the accelerator and then, if there is nothing in the way, steer the vehicle so that it straddles the edge of the pavement.
2. Turn the steering wheel about one-eighth of a turn, until the right front tire contacts the pavement edge.
3. Then turn the steering wheel to go straight down the roadway.
See also:
Accepting or Declining a Call
When an incoming call is received, the infotainment system mutes and a ring tone is heard in the vehicle. Accepting a Call Turn the MENU/SEL knob to "Answer" and press the MENU/SEL knob to acc ...
Repair Facility
GM also recommends that you choose a collision repair facility that meets your needs before you ever need collision repairs. Your dealer may have a collision repair center with GM-trained technicians ...
Buying New Tires
GM has developed and matched specific tires for the vehicle. The original equipment tires installed were designed to meet General Motors Tire Performance Criteria Specification (TPC Spec) system ratin ...