Cruise Control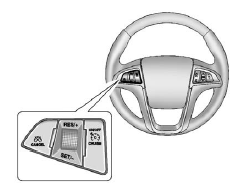 ON/OFF

CRUISE : Press to turn the cruise control system on and off.

CANCEL : Press to disengage cruise control without erasing the set speed from memory.
RES/+: Move the thumbwheel up to make the vehicle resume to a previously set speed or to accelerate.
SET/− : Move the thumbwheel down toward SET/- to set a speed and activate cruise control, or to make the vehicle decelerate.
See also:
Turning the System On and Off
The URPA system can be turned on and off using the rear park aid disable button located next to the radio. The indicator light comes on when the system is disabled and turns off when the system is ...
Torque Lock
If you are parking on a hill and you do not shift your transmission into P (Park) properly, the weight of the vehicle may put too much force on the parking pawl in the transmission. You may find it di ...
The Inside
SUV fans should find plenty of familiar goodies: a high seating position, excellent forward sightlines — albeit a hefty blind spot in back — and room to stretch out. I found our tester's leath ...