Removing the Spare Tire
The compact spare tire is located under the vehicle, in front of the rear bumper. See Compact Spare Tire on page 10‑77 for more information.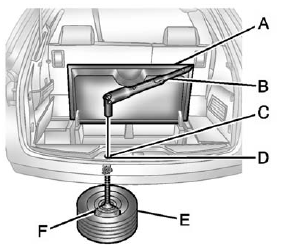 A. Rear Convenience Center
B. Wrench (Three-Piece Shown, One-Piece Similar)
C. Carpet Cutout
D. Hoist Shaft
E. Compact Spare Tire
F. Retainer
1. Open the storage compartment door of the convenience center (A) that is nearest the liftgate.
2. Open the carpet cutout (C) that is located through the hole of the storage compartment.
3. Attach the wrench (B) into the hoist shaft (D).
4. Turn the wrench (B) counterclockwise to lower the spare tire (E) to the ground.
Continue turning the wrench until the spare tire can be pulled out from under the vehicle.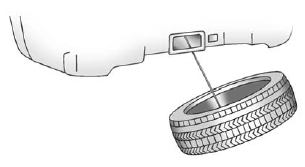 5. Tilt the retainer and slip it through the wheel opening to remove the spare tire from the cable.
6. Turn the wrench clockwise to raise the cable back up after removing the spare tire.
Do not store a full-size or a flat road tire under the vehicle.
See "Storing the Spare Tire" and "Storing the Flat Tire" later in this section.
See also:
Warning Lights, Gauges, and Indicators
Warning lights and gauges can signal that something is wrong before it becomes serious enough to cause an expensive repair or replacement. Paying attention to the warning lights and gauges could preve ...
Exterior
While there's lots of news about the upcoming redesigned Chevy Colorado, the Canyon hasn't strayed from its current platform. The Canyon's exterior still offers more chrome and tasteful accents th ...
Active Fuel Management®
Vehicles with V8 engines may have Active Fuel Management™. This system allows the engine to operate on either all or half of its cylinders, depending on the driving conditions. When less power is r ...