Cruise Control
With cruise control, a speed of about 40 km/h (25 mph) or more can be maintained without keeping your foot on the accelerator. Cruise control does not work at speeds below about 40 km/h (25 mph).
When the brakes are applied, the cruise control is disengaged.
WARNING
Cruise control can be dangerous where you cannot drive safely at a steady speed. So, do not use the cruise control on winding roads or in heavy traffic.
Cruise control can be dangerous on slippery roads. On such roads, fast changes in tire traction can cause excessive wheel slip, and you could lose control. Do not use cruise control on slippery roads.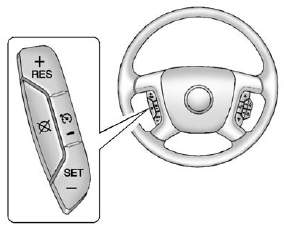 The cruise control buttons are located on left side of the steering wheel.

(On/Off): Press to turn cruise control on and off. The indicator comes on when cruise control is on.
+ RES (Resume/Accelerate):
Press briefly to make the vehicle resume to a previously set speed, or press and hold to accelerate.
SET–: Press to set the speed and activate cruise control or to make the vehicle decelerate.

(Cancel): Press to disengage cruise control without erasing the set speed from memory.
See also:
Compass
The vehicle may have a compass display on the Driver Information Center (DIC). The compass receives its heading and other information from the Global Positioning System (GPS) antenna, StabiliTrak, ...
What Makes an Airbag Inflate?
In a deployment event, the sensing system sends an electrical signal triggering a release of gas from the inflator. Gas from the inflator fills the airbag causing the bag to break out of the cover. Th ...
Vehicle Storage
Tires age when stored normally mounted on a parked vehicle. Park a vehicle that will be stored for at least a month in a cool, dry, clean area away from direct sunlight to slow aging. This area sh ...