Passenger Compartment Air Filter
The filter removes dust, pollen, and other airborne irritants from outside air and inside air when in recirculation mode.
To find out what type of replacement filter to use, see Maintenance Replacement Parts on page 11‑13.
1. Open the glove box.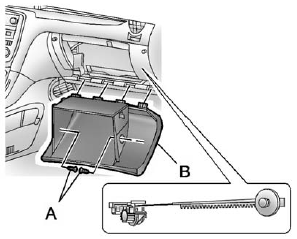 2. Twist the compartment retainers (A) and pull outward to remove.
3. Lower the instrument panel compartment assembly (B) beyond the stops.
4. If needed, unsnap the instrument panel compartment assembly (B) from the instrument panel. When reinstalling, be sure the instrument panel compartment dampener arm is aligned properly to the dampener gear assembly.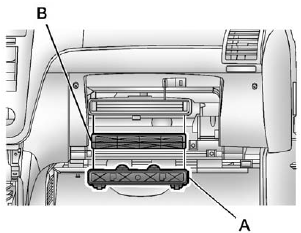 5. Squeeze the housing cover (A) tabs to remove.
6. Remove the old air filter from the passenger compartment air filter housing (B).
7. Install the new air filter.
8. Replace the housing cover.
9. If removed, reinstall the instrument panel compartment assembly.
10. Reinstall the compartment retainers.
See your dealer if additional assistance is needed.
See also:
Securing the Child Within the Child Restraint
WARNING A child can be seriously injured or killed in a crash if the child is not properly secured in the child restraint. Secure the child properly following the instructions that came with that chi ...
Starter Switch Check
WARNING When you are doing this inspection, the vehicle could move suddenly. If the vehicle moves, you or others could be injured. 1. Before starting this check, be sure there is enough room around ...
Hill Start Assist (HSA)
This vehicle has a Hill Start Assist (HSA) feature, which may be useful when the vehicle is stopped on a grade. This feature is designed to prevent the vehicle from rolling, either forward or rear ...