Climate Controls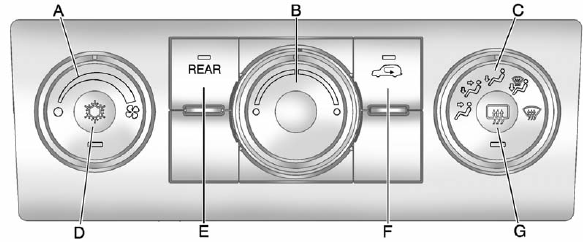 A. Fan Control
B. Temperature Control
C. Air Delivery Mode Control
D. Air Conditioning
E. REAR (Rear Climate Control)
F. Recirculation
G. Rear Window Defogger
Dual Automatic Climate Control System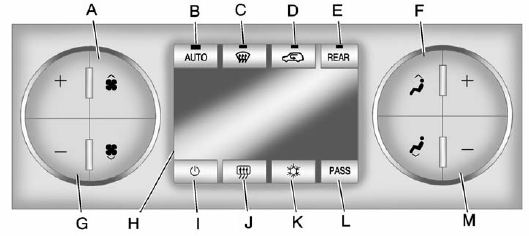 A. Fan Control
B. AUTO (Auto Operation)
C. Defrost
D. Recirculation
E. REAR (Rear Climate Control)
F. Air Delivery Mode Control
G. Driver Side Temperature Control
H. Display
I. Power (On/Off)
J. Rear Window Defogger
K. Air Conditioning
L. PASS (Passenger)
M. Passenger Side Temperature Control
See Climate Control Systems on page 8‑1 or Dual Automatic Climate Control System on page 8‑4 (If Equipped). For more information about the rear climate control, see Rear Climate Control System (Rear Climate Control Only) on page 8‑10 or Rear Climate Control System (Rear Climate with Rear Seat Audio) on page 8‑11.
See also:
Fuel System Messages
ECO MODE ON On some models, this message displays when the fuel economy mode has been turned on by pressing the eco button near the shift lever. See Fuel Economy Mode on page 9‑31 for more ...
Adding and Removing Categories
Categories cannot be added or removed while the vehicle is moving faster than 8 km/h (5 mph). To add or remove a category: 1. Press the MENU button. 2. Press the softkey located below the XM CAT ta ...
Ejecting a Disc
DVD (Eject): Press and release to eject the disc currently playing in the top slot. A beep sounds and Ejecting Disc displays. If loading and reading of a disc cannot be completed, due to unknown for ...