Knob Retainer
Floor mats with a knob retainer.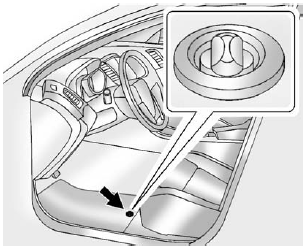 Removing and Replacing the Floor Mat
1. Turn the knob until it is aligned with the slot in the floor mat grommet.
2. Pull up on the floor mat.
3. Center the slot in the floor mat grommet with the knob on the floor and set into position.
4. Turn the knob until it is perpendicular to the slot in the grommet to lock the mat in place.
5. Make sure the floor mat is properly secured and verify that it does not interfere with the pedals.
See also:
Steering, Suspension, and Chassis Components
Visually inspect front and rear suspension and steering system for damaged, loose, or missing parts or signs of wear. Inspect power steering lines and hoses for proper hook-up, binding, leaks, cracks, ...
Instrument Panel Illumination Control
(Instrument Panel Brightness): This feature controls the brightness of the instrument panel lights and is located next to the exterior lamps control. Push the knob to extend out and then it can be ...
Low Fuel Warning Light
English Shown, Metric Similar This light comes on for a few seconds when the ignition is turned on as a check to indicate it is working. If it does not come on, have it fixed. The low fuel warni ...