Collision Alert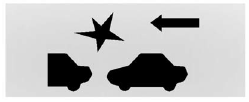 When your vehicle approaches another vehicle too rapidly, the red FCA display will flash and sound several beeps. When this occurs, the brake system prepares for driver braking to occur more rapidly. Continue to apply the brake pedal as the driving situation dictates.
See also:
Voice Pass-Thru
Voice pass-thru allows access to the voice recognition commands on the cell phone. See your cell phone manufacturer's user guide to see if the cell phone supports this feature. To access contacts sto ...
Vehicle Load Limits
It is very important to know how much weight your vehicle can carry. This weight is called the vehicle capacity weight and includes the weight of all occupants, cargo, and all nonfactory-installed opt ...
Symbols
The vehicle has components and labels that use symbols instead of text. Symbols are shown along with the text describing the operation or information relating to a specific component, control, message ...