Collision Alert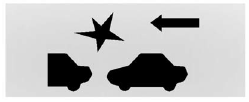 When your vehicle approaches another vehicle too rapidly, the red FCA display will flash and sound several beeps. When this occurs, the brake system prepares for driver braking to occur more rapidly. Continue to apply the brake pedal as the driving situation dictates.
See also:
Vehicle Overview
GM says the Sierra 1500 Hybrid's gasoline V-8 and electric motors team up for an overall mileage improvement compared with the regular Sierra. The Sierra Hybrid is only available as a rear- or fou ...
Brake System Warning Light
The vehicle brake system consists of two hydraulic circuits. If one circuit is not working, the remaining circuit can still work to stop the vehicle. For normal braking performance, both circuits need ...
Starting the Engine
If the vehicle has a diesel engine, see the Duramax diesel supplement for more information. If the vehicle is a hybrid, see the hybrid supplement for more information. Notice: Do not try to shift to ...