Key Lock Release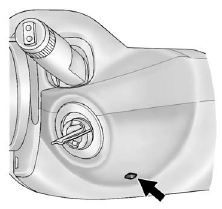 Vehicles with an automatic transmission are equipped with an electronic key lock release system.
The key lock release is designed to prevent ignition key removal unless the shift lever is in P (Park).
The key lock release is always functional except in the case of an uncharged or low voltage (less than 9&-volt) battery. If the vehicle has an uncharged battery or a battery with low voltage, try charging or jump starting the battery. See Jump Starting on page 10‑76.
If charging or jump starting the battery does not work, locate the hole below the ignition lock. Insert a flat bladed tool or another key from the key chain into the opening. When the lever can be felt, actuate the lever toward the driver, and remove the key from the ignition.
See also:
Lockout Protection
If the driver side power door lock switch is pressed when the driver door is open and the key is in the ignition, all of the doors will lock and then the driver door will unlock. If the passenger sid ...
Recommended Fuel
Use regular unleaded gasoline with a posted octane rating of 87 or higher. If the octane rating is less than 87, an audible knocking noise, commonly referred to as spark knock, might be heard when ...
Immobilizer
See Radio Frequency Statement on page 13‑22 for information regarding Part 15 of the Federal Communications Commission (FCC) rules and Industry Canada Standards RSS-GEN/210/220/310. ...