Key Lock Release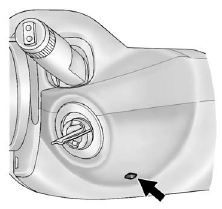 Vehicles with an automatic transmission are equipped with an electronic key lock release system.
The key lock release is designed to prevent ignition key removal unless the shift lever is in P (Park).
The key lock release is always functional except in the case of an uncharged or low voltage (less than 9&-volt) battery. If the vehicle has an uncharged battery or a battery with low voltage, try charging or jump starting the battery. See Jump Starting on page 10‑76.
If charging or jump starting the battery does not work, locate the hole below the ignition lock. Insert a flat bladed tool or another key from the key chain into the opening. When the lever can be felt, actuate the lever toward the driver, and remove the key from the ignition.
See also:
Hill Start Assist (HSA)
This vehicle has a Hill Start Assist (HSA) feature, which may be useful when the vehicle is stopped on a grade. This feature is designed to prevent the vehicle from rolling, either forward or rear ...
Low Traction Mode
If your vehicle has the Allison Transmission, or the Hydra-Matic 6-Speed Automatic Transmission, it has a Low Traction Mode that can assist in vehicle acceleration when road conditions are slippery, s ...
Using the Outside Mirror with the Blind Spot Mirror
1. Set the main mirror so that the side of the vehicle can just be seen and the blind spot mirror has an unobstructed view. 2. When checking for traffic or before changing a lane, look at the main ...